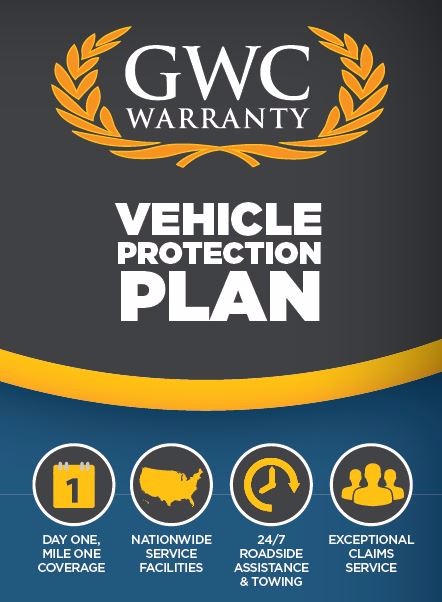 No Worries, Just Drive Package
GWC offers drivers like you a "No Worries, Just Drive" experience by giving you the confidence, freedom and reliability you need when making your vehicle purchase. Add the new No Worries, Just Drive Package to your coverage to take the No Worries experience to a new level.
THIS OPTIONAL PACKAGE INCLUDES:
$0 deductible
$0 transfer fee
$25 maintenance reimbursement
$25 gas card
Upgraded rental car reimbursement
Enhanced travel and lodging reimbursement
Advanced roadside assistance
Windshield repair
12 month subscription to identity monitoring service from IdentityForce*
FREQUENTLY ASKED QUESTIONS
Q: IS THE PLAN TRANSFERABLE IF I DECIDE TO SELL MY VEHICLE BEFORE THE COVERAGE ENDS?
A:
Yes, unlike many other plans you can transfer your coverage to the next owner. This may help you get a higher resale value because the next owner will know they are protected from unexpected high repair costs.
Q: WHEN DOES MY COVERAGE START?
A:
For used vehicles, coverage begins Day One, Mile One, meaning you are fully protected against covered repair costs the day you purchase your vehicle. For new vehicles, coverage begins on the contract sale date. With the warranty remaining option, the contract begins upon expiration of the manufacturer's basic factory warranty.
Q: WHERE CAN I TAKE MY VEHICLE FOR REPAIRS?
A:
Repairs can be made at any licensed and reputable service facility. We'll even help you locate a preferred provider if you have a breakdown while traveling.
Q: WHEN DO I HAVE TO PURCHASE THE PLAN?
A:
For vehicles no longer covered under basic factory warranty, you must purchase the plan the same day you purchase the vehicle. For vehicles that still have factory coverage, you have until that warranty runs out. However it is always less expensive to buy a plan when you have fewer miles on the car.
Read the Plan Overview Brochure
*Monitoring service may not uncover all suspicious activity. No one can prevent all identity theft. Instant alerts require subscribers current mobile phone number or email address. Recovery service requires subscriber sign a limited power of attorney. See IdentityForce.com for details.
**See contract application for details on coverage, restrictions, & exclusions.